The correct execution of zinc details is not only fundamental for the roofing or cladding to perform properly, but it also contributes to the architectural essence of the building. For these reasons, and with the aim of assisting in the design and installation of your elZinc roofing and façade projects, we have made available to you a wide selection of architectural details for the most commonly used systems.
Discover all the advantages of this new tool.
If you can't find the solution that you're looking for or if you need a specific detail for your project, don't hesitate to contact us. We would be delighted to offer our assistance.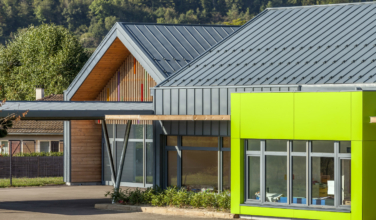 Double lock standing seam - DLSS
The double lock standing seam is a proven system that is versatile and adaptable to all types of roofing or geometric shapes. Its large variety of details and its discreet appearance make it equally appropriate for contemporary as well as traditional architecture. This system provides very good weathearability, allowing for the execution of very low pitched roofs. In addition, it can be used to install a roofing design that is either ventilated or non-ventilated.Download the matrix for this system: DLSS
For any request, please contact us or send us the form below.