A solution to the challenges posed by urban densification and sustainable construction. The expansion of the apartment improves the quality of life, thus increasing the value of the building.

The challenge: transforming a T3-type housing with a sloping roof into a T5 duplex using sustainable and affordable materials.
«The house on the roof» is the solution provided by SCHÉMAA architecture firm. The added height replaces the existing apartment. The original roofing had to be removed to build this two-storey house with an accessible roof-terrace.
The project is across two floors. The extent of the renovation has reshaped the building volume, creating a new identity.
Its simple, refined volume is sculptured into the building's original perimeter, maximising the built area in line with the Local Urban Development Plan (PLU) of Suresnes (France).
The added height, clad in brown elZinc Rainbow®, seamlessly integrates with the surrounding brick, stone and rough stone buildings with brownish-orange roofs.
The panels on the façade provide balance, and the protruding glass frames enhance its expressiveness.
The roofing, which serves as the fifth façade, is treated as an accessible garden terrace. Flanked by emerging structures that serve as a light shaft, it directs the views from the terrace towards Bois de Boulogne and the Eiffel Tower.
elZinc Rainbow® … Because zinc doesn´t have to be grey….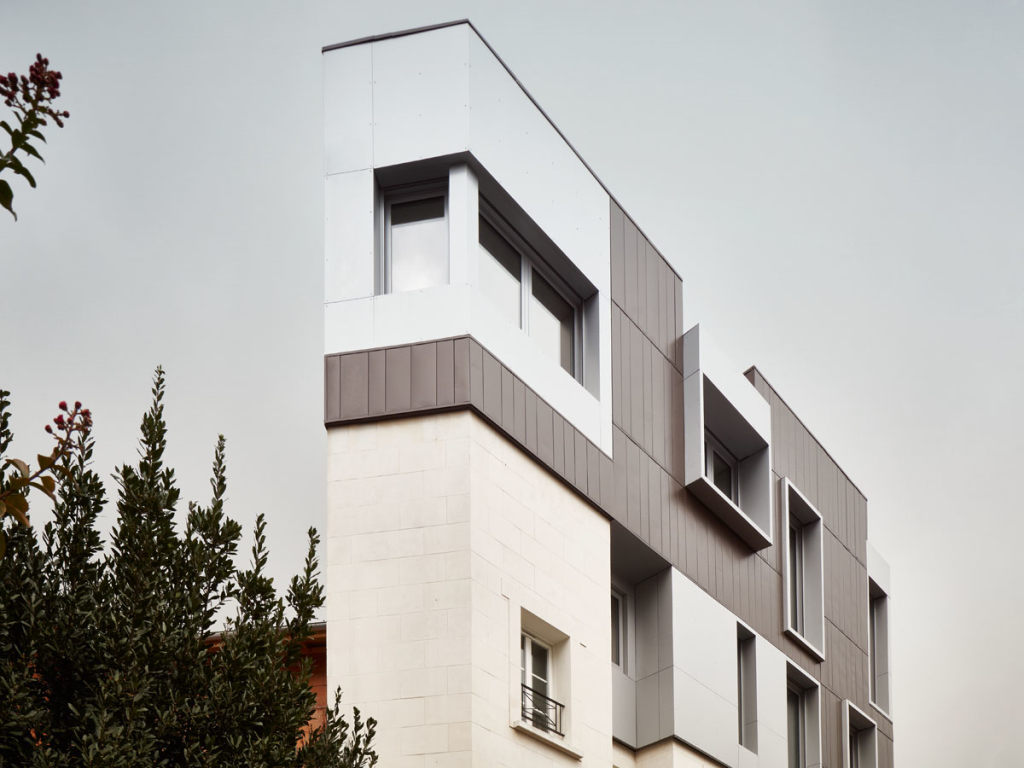 The low maintenance and excellent durability of elZinc Rainbow® brown rolled zinc adds quality to the façade, highlighting the complex geometry of the building.
The pre-weathered, coloured zinc for roofing and façade, elZinc Rainbow®, is available in 6 shades. The elZinc Rainbow finish provides additional protection against corrosion.
Indoors or outdoors, its natural colours open up a new horizon for greater creativity in design and integration with the environment.
Additional elements of the project:
Project participants:
Architect : SCHEMAA www.schemaa.fr
Installer : Ortelli Charpente Couverture
Photographer : David Foessel
For more information, contact us!